Historia
Waldoor® is since the seventies of the previous century the brand name of Waldoor automatic pedestrian doors.
Waldoor forms from the beginning of 2003 part of Konematic Waldoor B.V., by the integration of the Eldebe Waldoor Group BV and Konematic.
The Eldebe Waldoor Group BV was founded on a merger between Eldebe BV and Van Walbeek BV.
Eldebe was established in 1970 and was occupied with automatic sliding and revolving door systems of Japanese origin. Own developments in the early eighties were among other things a computer controlled unit and a revolving door.
Originally Van Walbeek was a trading company, established in 1882, and started in 1975 with automatic doors from Switzerland. In the early eighties an original design was developed, the Waldoor EM.
In short the company name 'Waldoor' is often used.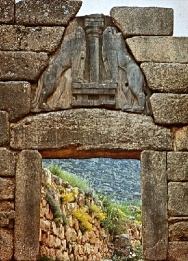 The logo of Waldoor, two lions supporting a pillar, reaches back to an image above the entrance of the castle of Mycenae from 1250 B.C. It was the inspiration for a logo from which strength, quality and knowledge of the modern entrance technique speak. In the past the door often was a symbol of closeness, now the door is of inviting nature.
Invisible by low-noise and fast running or especially visible by the defiant design. The Waldoor automatic door is for the both wishes the best example.
From the end of the year 2002 Waldoor is part of the KONE Group.
In the Netherlands Konematic and Waldoor are executing their activities from the city Veenendaal in the new company name Konematic Waldoor B.V.
With the restriction that Konematic is facing independence of brand maintenance of pedestrian doors and industrial doors and Waldoor is facing the development, production, sales and construction of the Waldoor automatic doors.